…SEND CLIENTS FLOWERS
Christopher Sutton, CEO of Coast to Coast Financial was recently interviewed for Collector Magazine. This is what he had to say about their excellent customer service: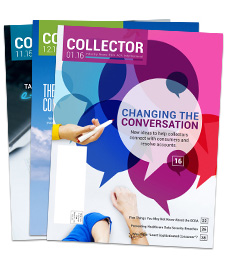 I tell our clients that if they call us and leave a message during normal business hours, and that call is not returned the same day, we will overnight them flowers or a box of candy. When I started in this business 30 years ago. "The number one complaint I heard from potential clients was they don't hear back from their collection agency." I realized we had an opportunity to differentiate ourselves. I also tell clients that when they call, our phones will be picked up by a live person within two rings. They sometimes laugh a little at these promises—they think it's cute and maybe a little corny—but I think that human touch is so critical in today's world. Its rare that I have to actually send flowers, maybe two or three times a year (and it's usually my fault, not my staff's), but clients are always delighted. In an industry where we all must comply with the same rules and use the same letters and scripts, it's your customer service skills that make the difference.
-Christopher P Sutton, CEO/ president of Coast to Coast Financial Solutions Inc.